What is a Micro-Certification?
Micro-certifications are short, competency-based courses that allow educators to demonstrate mastery in a particular area. Choose those that interest you and complete them when and how you choose! Want to know more? Register for an upcoming micro-certification information session: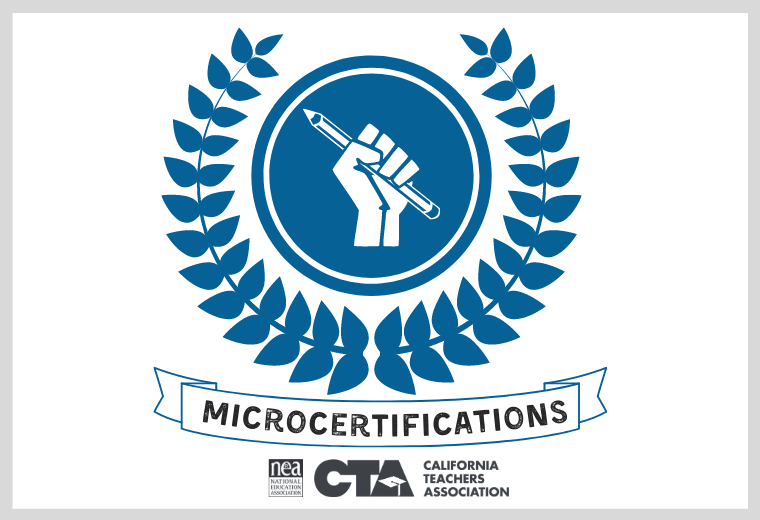 Access the Micro-Certification Portal
Access the CTA/NEA Micro-certification portal and our featured stacks (curated collections of related micro-certifications). Create for an account, browse offered micro-certifications, enroll in the one that interests you and you're on your way!
Explore a Recent Training
Review a recent training on CTA/NEA Micro-certifications! The hyperlink below will take you to a .pdf of an introductory training covering the basics of micro-certifications. You can review the whole thing or jump to specific section!
Micro-Certification Units through CSU Chico
2021/2022 University Credit Program
The qualifying micro-certifications are listed in the CTA Stack Library.
Each micro-certification is at least 15 hours and 15 hours = 1 university credit through Chico State.
Submit the application form when you've accumulated 15+ hours. Once verified, you'll be enrolled for the appropriate number of units.
You can spread the units you earn across the fall, winter, and spring terms, or earn them all in one term. It's up to you!
There is no need to submit certificates or other documents. CTA can verify your completed micro-certifications.
The cost is $75/unit fee.
Application deadlines:
For Fall '21 Units: December 1
For Winter '21/'22 Units: January 21
For Spring '22 Units: May 9
Your grades can be viewed online through the Chico State Portal. If you have not activated a portal account, follow the steps below. You will need to enter your date of birth and the nine-digit Chico State Portal ID number you received with your registration confirmation.
Step 1. Go to the "Claim Your Account" page
Step 2. Enter your Chico State ID & date of birth
Step 3. Answer the security questions
Step 4. Your account should be activated
Step 5. Enter the Student Center
Step 6. Select "Grades" under Academic History
Step 7. Select the term you wish to view grades
If you did not supply Continuing Education with your date of birth you will not have access to activate an account. If you are experiencing difficulty and do not remember if you supplied us with your date of birth, you should contact our office so that this information can be added to the system. Once the system is updated, approximately 24 hours after you contact us, you should have access. If you do not, please contact the Help Desk at 530-898-HELP (4357) or helpstu@csuchico.edu
If you have already created a CSU, Chico Portal account, you can log in with your username (generally your first initial and last name) and the unique password you've already created.
Information regarding grades prior to summer 2004 will require a transcript request form available to download at www.csuchico.edu/sro
You can request an official, mailed transcript online. For questions regarding other services offered by Student Records and Registration please visit www.csuchico.edu/sro. Teachers requesting transcripts for salary increments should note the Special Instructions and review the processing outline to ensure timely receipt of transcripts. Your transcript shows CSU, Chico work for courses numbered 001-899. Courses numbered 800-899 do not apply towards a degree unless approved by the appropriate department. Successful completion of an 800 level course will appear on the transcript with a CR or Letter grade and a value in the attempted field that may not be reflected in the earned field or the summary totals. Credit/No Credit Grading: If you plan to transfer to graduate or professional schools, be aware that some schools in evaluating transfer credit may regard Credit (CR) grades as C's and No Credit (NC) grades as F's.
Approved Stacks for CSU Chico Units
Our micro-certificates are organized into stacks—sequences of related self-paced micro-certifications—featuring important topics for educators in California public schools. Check back regularly for new content!
Additional Information
Select a skill you have developed or would like to develop, and download or view the micro-certificate on nea.certificationbank.com/California. Read the micro-certificate carefully to familiarize yourself with the resources, submission guidelines, and evaluation criteria. If you choose to print the micro-certificate you may also want to view it digitally in order to access the clickable links in the research and resource sections.
Collect the required evidence demonstrating your competence in the selected area. For most micro-certificates, you will be required to collect evidence from real experiences in your classroom or worksite. Each micro-certificate requires different kinds of work to demonstrate your mastery. For example you may need to write a lesson plan, videotape a meeting, or collect data to analyze. It typically takes about 10-15 hours to complete the requirements to earn a micro-certificate.
Submit by uploading your evidence on nea.certificationbank.com/California. Once you click Start, you will see a place to upload each piece of evidence you have collected. It will then be reviewed by two reviewers. You will hear back from the reviewers in approximately two weeks.
You have six months from the time you click Start to complete your micro-certificate. If your time runs out, you will need to click Start again and re-upload anything you already completed.
Share your achievement with others! After you have successfully earned the micro-certificate, share it with your evaluator, post on social media and add to your resume. In many districts, micro-credentials could count as continuing education units. You will need to check with your district or state to see if they are accepted. You can view all of your micro-certificate badges on the "My Showcase" page.
Q: What's the difference between a micro-certificate versus a micro-credential?
While you will encounter references to "micro-credentials" throughout our library. We use the term "micro-certification" wherever possible to distinguish these short, elective professional learning opportunities from California's system for teacher credentialing.
Q: How much does it cost to apply for a micro-credential?
Micro-credentials are free to members. Non-members must pay a $75 fee to apply for a micro-credential.
Q: Will earning a micro-certification make me eligible for a raise?
It depends on the policies in the district where you work. Upon completion of the requirements of a micro-certificate, members will receive a certificate of completion and documentation of the course requirements met. If considering using micro-certificates for salary schedule advancement, it may make sense to check with your HR department prior to beginning.
Q: What happens if I can't finish a micro-credential in the allowed amount of time?
After six months, your application will be reset. You will need to start over when you are ready to finish uploading your evidence. It is important that you save your work on your own computer or in an online storage space in case this happens.
Q: What happens if I don't pass the micro-credential? Do I have to start over?
You will receive feedback from your peer reviewer and be invited to address the feedback and resubmit. You may submit as many times as you need in order to pass. The national first-time pass rate is about 40 percent, so you shouldn't feel bad if you don't pass the first time. It is a process and the feedback is meant to help you improve your practice.