Outspoken and Out to Make a Difference Since 1863
When CTA was founded in 1863, only a few hundred students attended public schools and teachers were poorly prepared and seriously underpaid. Within three years, CTA persuaded the state legislature to establish free public schools for all children. 
We've had many victories since then, from preventing the firing of a female teacher because she was married, to sponsoring and campaigning for Proposition 98, the landmark state constitutional amendment that guarantees a certain amount of the state's budget for K-14 schools.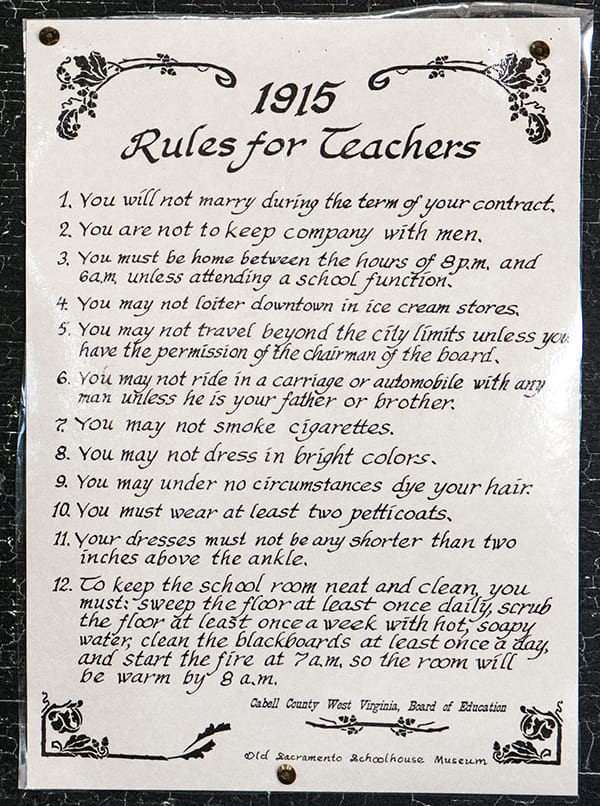 Together, we have raised the stature and salaries of educators and expanded the opportunity for California's students to receive a quality education. Today, we're still going strong, because our students are counting on us.
"We, the present-day teachers, must be willing and ready to fight the battles of the future. The battle for such things as good salaries, security, tenure for the small school and health insurance for all. We must work towards a single salary plan, so those of our group who have spent a longer time in preparation and are better prepared for their life work than you and I, may receive recognition of it in the salary scale. We must be willing to fight for the rights of teacher in other states, by financial aid, if necessary, or by aid in the enactment of a Federal plan whereby there may be an equalization of opportunities."

Verna Moran, Loleta Chapter President Sierra Educational News, June 1945
Our Timeline
2020 marks 157 years of advocacy for our profession, our students and our public schools. In 2013, we celebrated our 150th anniversary. Here is a timeline of our history.
1863
CTA is founded as California Educational Society by Superintendent of Public Instruction John Swett with fewer than 100 members, all male.
1866
CTA's first legislative achievement establishes free public schools for all children in California—including schools that educate students of color.
1890
CTA wins state Supreme Court ruling on "fair dismissal" law.
1895
CTA backs the first class-size reduction law, limiting the number of students in a class to 80.
1911
CTA leads state funding fight to establish community colleges. At CTA's urging, free textbooks are printed and distributed at state expense.
1913
California State Teachers' Retirement System is created by legislation after CTA State Council calls for a statewide teacher pension system in 1910.
1915
CTA leads efforts to outlaw child labor and enact other legal protections for children
1927
CTA wins legal victory when state Supreme Court rules that a school board cannot fire a female teacher simply because she married.
1940
CTA is one of a few organizations in California to protest internment of Japanese-Americans at the beginning of World War II.
1946
CTA sponsors Proposition 3, which guarantees schools $120 per student in funding from the state and a minimum teacher salary of $2,400.
1967
CTA establishes schools for children of migrant workers, and leads the authorization of bilingual instruction classes for English learners.
1975
Legislature passes the CTA-sponsored Rodda Act, making K-14 school employees the first public employees in California to win collective bargaining rights.
1980
Thousands of teachers receive layoff notices as a result of Proposition 13. Continuing program cuts lead to annual layoffs.
1983
CTA leads passage of SB 813, which provides significant additional revenue for California schools through equalization of revenue limits and new categorical programs. This bill also provides more rigorous graduation requirements, longer school day and year, and higher beginning teachers' salaries. It also establishes statewide model curriculum standards.
1988
CTA drafts and wins passage of Proposition 98, which guarantees a minimum portion of state money to fund K-14 education.
1993
Thousands of teachers and citizens mobilize to defeat Proposition 174, a school voucher initiative. 1994 – CTA opposes Proposition 187, a ballot initiative designed to deny undocumented immigrants social services, health care, and public education.
1996
CTA wins Class Size Reduction law for K-3 classrooms
CTA files lawsuit (CTA v. Gould) against the state to protect Proposition 98 and wins largest settlement in the country against a state government, providing $540 million to schools in 1996-97 and more than $1 billion in succeeding years. CTA membership reaches 270,000.
1998
CTA leads defeat of an initiative that would have restricted how unions participate in political campaigns and silenced member voices. CTA wins passage of a $9.3-billion statewide school bond.
2000
After a massive mobilization effort with more than 10,000 CTA members attending a rally in Sacramento, public schools receive $1.84 billion. CTA members defeat a second voucher initiative, Proposition 38.
2002
CTA wins passage of a $13 billion statewide school bond.
2003
CTA wins passage of a $12.3 billion statewide school bond.
2005
CTA members lead a broad coalition effort with other public sector labor unions to defeat Governor Schwarzenegger's initiatives that would have cut school funding, destroyed teachers' due process rights and silenced the voices of public employees. CTA files a lawsuit against the state to get back all money owed to schools under Proposition 98.
2006
CTA's Quality Education Investment Act (QEIA) passes into law in 2006 to help schools that are serving a higher percentage of low-income, and English learners to close the achievement gap. CTA wins passage of a $10.4-billion statewide school bond.
2007
CTA members successfully mobilize to stop the harmful Miller-Pelosi reauthorization proposal for the Elementary and Secondary Education Act ( "No Child Left Behind Act"). The proposal would have placed more emphasis on test scores, created new sanctions for struggling schools, and eroded employee rights.
2008
Nearly 11,000 CTA members receive pink slips in March. In April, the CTA officers embark on a six-week statewide "Cuts Hurt" bus tour to focus attention on the governor's proposed cuts. CTA's actions reduce layoffs to 5,000.
2009
As the state budget crisis unfolds, schools are hit with massive cuts and more than 27,000 educators receive pink slips. With CTA's help, the number of layoffs is reduced to 17,000. As a result of CTA's efforts, the Legislature restores $11 billion in Prop. 98 funding in future years.
2011
With CTA's support, the Legislature approved and the governor signed the California DREAM Act, which allows undocumented students who were brought to the United States under the age of 16 to apply for private scholarships and state-funded Cal Grants in order to make college affordable.
2012
CTA leads fight to pass the Proposition 30, which generates $42 billion for public schools and local services over seven years. CTA also defeats Prop. 32, another attempt to silence our political voices.
Our Oral History
Our oral histories preserve the voices and memories of our CTA community. Knowing where we have been helps us shape our future.