The mighty educators with the Twin Hills Teachers Association (THTA) have a busy summer ahead of them as they fight for a livable wage that is fair, just, and equitable. Educators are prepared to strike at the beginning of the school year if something does not change over the summer. Sonoma County continues to be recognized as one of the least affordable counties in the nation for educators.  Statewide average teacher pay is $84,531.  At Twin Hills, the average wage for educators is only $69,594.
Despite "convincing" and "compelling" teachers' testimonies at a fact-finding hearing that showed that Twin Hills Union School District (THUSD) educators are not being valued and prioritized, this issue remains unresolved.  But it should not have come down to this – educators are being forced to work second and third jobs to make ends meet, to put their children on Medi-Cal, to use food banks, and go into debt to provide for their families.
"I have taught in the Twin Hills School District for 12 years, and still do not make a living wage. I supplement my pay with outside jobs. I have worked as a bartender, waitress, and clerk at local businesses. At times I have had three jobs to make ends meet. Most days, I leave campus as soon as the parking lot is clear to pick up a shift at job number two. This means late nights and early mornings in order to keep up with my teaching responsibilities," said Twin Hills Charter Middle School English Teacher Ms. Capriola.
For many educators, it also means looking for another teaching job outside the district. This puts students on an unstable path of learning.
"Living without a reasonable salary is really hard on the soul. Every month is financially stressful. But I still went to work, did my best, and hoped for better. Then I heard that our district had countered our union request for another raise with ZERO. I also understand that our administrative salaries are closer to competitive. This struck me as extremely unfair and callous. I started to look in neighboring counties and have been hired for the same position with a 25% increase in pay, full coverage for myself and my son and a team that appears happy, partly because they are being paid a livable wage for good work," said Apple Blossom Education Specialist Ms. Reese.
Though the Factfinder Chair found that educators are not being paid fairly, the Chair still suggests an unacceptable continuation of the dire status quo. A one-time bonus will not address the long-term issue of educators constantly being put last by THUSD. Today's investments should go towards students' education, which includes recruiting and retaining the best educators.
"When I started looking for a teaching job seven years ago, Apple Blossom Elementary was my first choice. I loved the teachers and the families of Apple Blossom. I did not know that the Twin Hills Union School District did not pay a fair wage to their teachers. I did not know just how little I was going to earn. Although I have loved working for the Twin Hills Union School District, I can no longer afford to work where I love. The cost of living in Sonoma County and the low wages that Twin Hills pays does not allow me to continue to work for this district. I have begun to take steps to move away from teaching and to look for work outside the Twin Hills district," said THTA Co-President Kristen DelMonte.
Educators have gone above and beyond during the pandemic to keep their students and community safe – the level of disrespect towards the teaching profession after one of the hardest events in our lifetime will not be tolerated.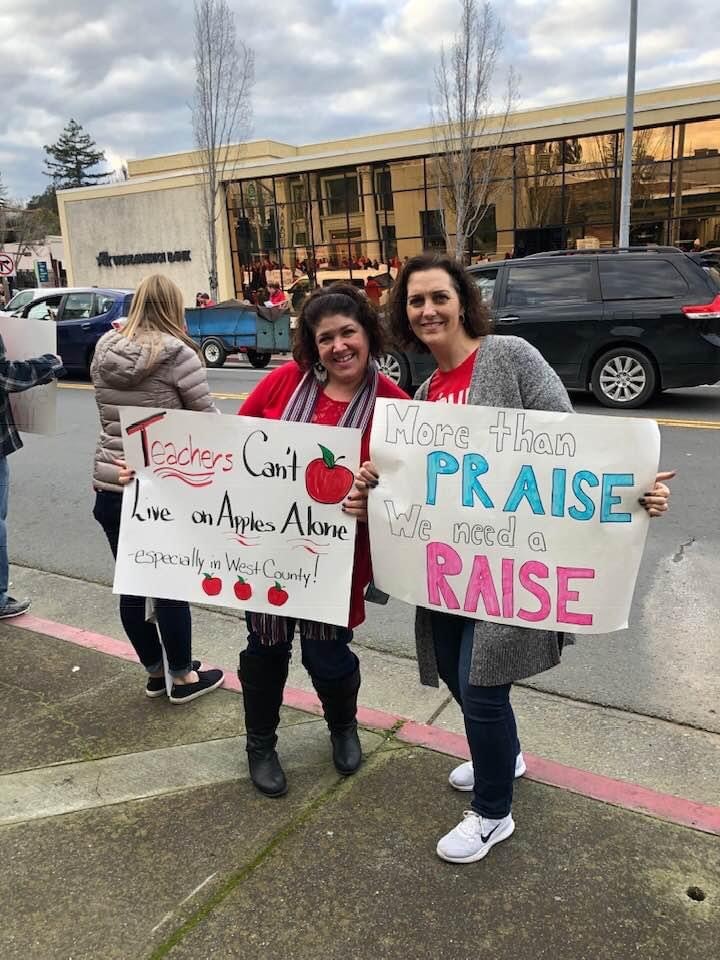 "Each month, we struggle to pay our bills before running out of money. Recently, we have begun going to pick up from the free food distribution each week to stretch our dollars further, and the past two summers have seen us sink into debt as we have not been able to put enough aside to compensate for the lost summer wages. Because of all of this, I have taken on a second job, teaching online after school and on weekends, and I am going to work over the summer as well. It is not a sustainable path to teach this much, and it is likely to lead to burnout," said Orchard View Supervising Teacher Ms. TimberMoon.
Parents and educators agree that the schools' students deserve are ones that keep quality education at the forefront. The district must prioritize educators in creating real solutions where they are not worrying about whether they can afford rent, or groceries, as it directly impacts the lives of students.