Oakland educators are on a one-day unfair labor practice (ULP) strike today for the schools their students deserve.
The strike comes after Oakland Unified School District (OUSD) failed to follow its 2019 agreement with Oakland Education Association (OEA) to engage with families when considering closing schools. Despite the agreement, widespread outcry from families to stop school closures and a complaint filed by the ACLU of Northern California on behalf of the Justice for Oakland Students Coalition, 11 schools are scheduled to close by the end of next year – three this year and eight the following year.
OUSD has a history of closing schools in predominantly Black and Brown communities. In the past 15 years, OUSD has closed 16 majority Black schools, upending communities and pushing more than 18,000 Black students out of the district since 1996.
Ending school closures was a top priority in OEA's seven-day 2019 strike, resulting in the agreement that OUSD is now blatantly disregarding. The district has also refused to bargain the closures. Schools are not in session today after OUSD made a half-hearted attempt at a legal injunction to stop the strike, which was rejected by the Public Employment Relations Board.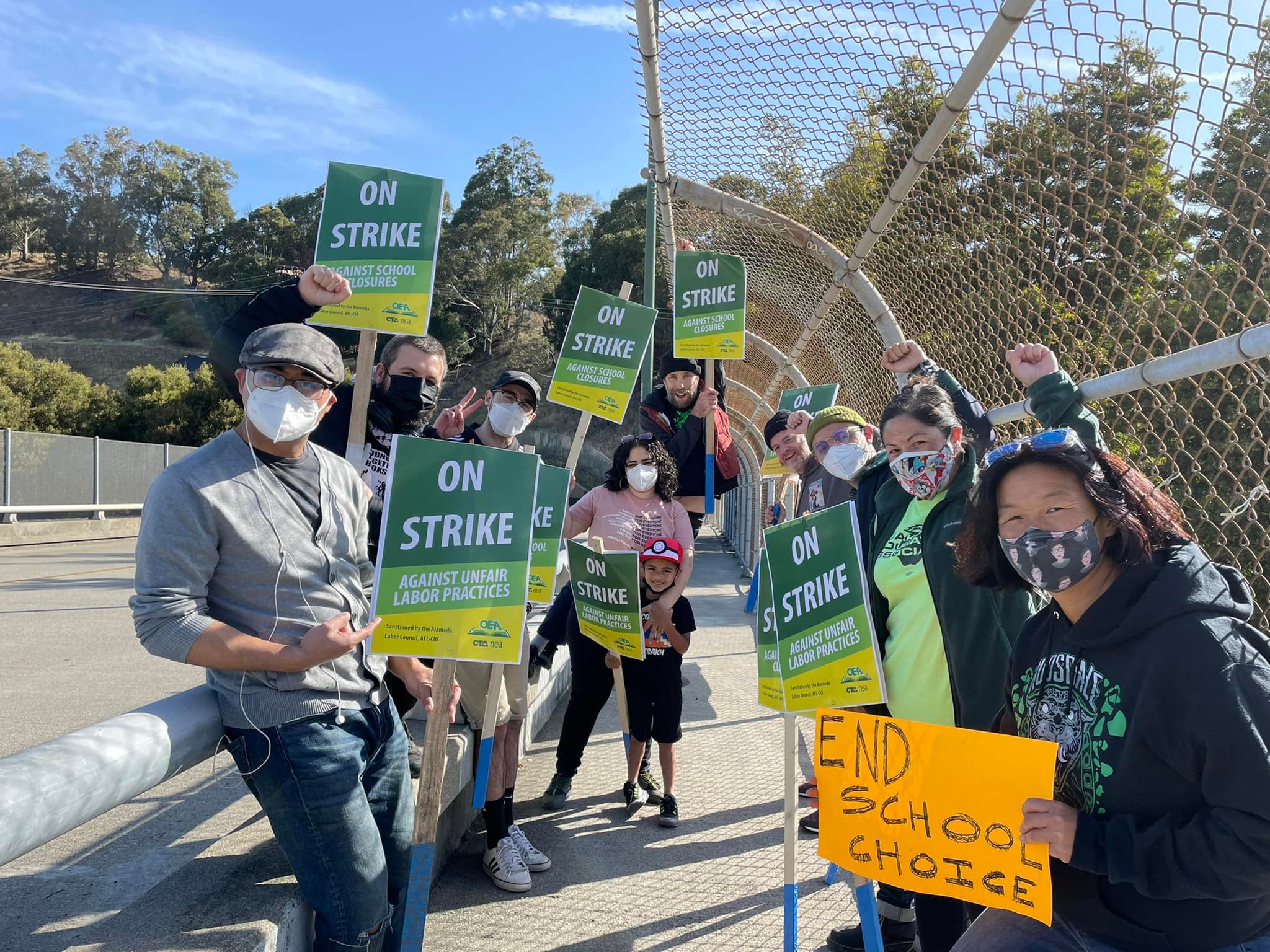 California educators can lawfully strike after a bargaining impasse, such as in OEA's 2019 strike, or in response to a ULP. Today's strike is due to OUSD's ULP of repudiating OEA's 2019 strike agreement on school closures and refusing to bargain with OEA in good faith over school closures.
"Let's be clear – educators don't want to strike, but we are because OUSD has forced us to fight to protect the schools our Black and Brown students deserve," OEA President Keith Brown said. "Rather than putting their resources towards unilaterally closing schools, OUSD should be acting as a respected governing body of learning and walking the walk to support the future of Oakland's families."
In February, the Oakland School Board voted to close 11 schools only a week after making the proposal public. Massive community outcry followed, including a rally/march in downtown Oakland and a hunger strike by two Oakland educators. Despite the pleas of students, families and school communities, the school board reaffirmed its decision to close schools as soon as the end of this school year, refusing to consider any alternatives or delay the decision.
"We find ourselves facing a majority school board that has gone back on its promise to not ambush a school with a last-minute closure," Brown said. "Enough is enough. We need to stop the school closures. As labor and community, we are united for the schools our students deserve!"
NEA Vice President Princess Moss joined the picket line at Parker K-8 School this morning, bringing the energy and solidarity of 3 million educators to East Oakland.
"Educators don't want to strike," she said, "but we will for our Black and Brown students."