"Everything is a distraction from educating our students and rebuilding our schools after the pandemic – and that's intentional and by design," says Dr. Heather Chapman, an educator in Orange Unified School District, where extremist school board members are impacting students and families. "This is about sowing distrust in public education."
In Orange and communities including Chino Valley and Temecula, educators are rising together with communities to defend their students, schools and each other from extremist board members and their politically driven policies that are diverting district resources and putting safety at risk. At a time when students have so many needs that school board members should be focusing on supporting, trustees in each of these communities are centering their personal political beliefs and dragging their districts into court and chaos with their egregiously irresponsible actions.
In what appears to be a coordinated effort by anti-public education groups to sow division in local communities and distrust in educators and public schools, newly elected board members in these districts are bringing the culture wars into classrooms and putting politics above the well-being of students and educators.
"It is our responsibility to push back on those who look to politicize our classrooms and erode our students' freedom to learn," says CTA President David Goldberg. "Whether that's extremists' attacks on textbooks that teach truth in history or ensuring the safety of all students in our schools."
Often funded by groups outside their communities and fueled by nationwide coverage on cable news networks, these extremist officials have turned school board meetings into contentious affairs and meme fodder that would be laughable if not so dangerous and such a waste of time and resources. Even Superintendent of Public Instruction Tony Thurmond was caught up at a July Chino Valley school board meeting – getting thrown out by the extremist school board president.
"Tonight, I went to a school board meeting to stand up for LGBTQ+ students who invited me to join them as they spoke out against a radical new policy that threatens their safety. When done speaking, the board president verbally attacked me and instructed the police to remove me," Thurmond tweeted that evening. "If I am forcibly removed from a public school board meeting as the State Superintendent of Public Instruction, how are everyday parents and students in Chino Valley Unified supposed to have their voices heard? I will always stand with California students and will use every power of my office to protect them from politicians who seek to divide our communities instead of keeping our kids safe."
Other elected leaders statewide have also stepped up to defend students and hold these extremist politicians accountable. California Attorney General Rob Bonta's office launched a civil rights investigation into Chino Valley Unified School District's (CVUSD) new policy forcing schools to "out" students whose gender identity may be changing, while Gov. Gavin Newsom threatened to fine Temecula Valley Unified School District (TVUSD) $1.5 million after their extremist-controlled board refused to adopt textbooks because they included a section on LGBTQ-rights icon Harvey Milk.
And educators in these districts continue to lead the charge, staying focused on real issues impacting their schools and communities, while also stepping up to defend their students in these manufactured controversies. Temecula Valley Education Association (TVEA) joined students and educators in filing a lawsuit in August against the school district for censoring instruction; Associated Chino Teachers (ACT) filed an Unfair Practice Charge the same month for unilateral policy changes enacted by the school board without negotiation; and Orange Unified Education Association (OUEA) joined a campaign to recall extremist board members and take their school district back.
"This movement has been organized – large, growing, and passionate – through grassroots fundraising and action, a signature drive to gather enough voters to petition a recall is underway," says OUEA President Greg Goodlander. "Parents are sad, upset and angry at the behaviors of the board majority, and when not collecting signatures, they are making their voices heard at school board meetings and on social media."
Goldberg says CTA will continue to stand with students and communities and against divisive and dangerous policies.
"We will never waver when it comes to advocating for our students and their safety. We will not support policies that harm children," Goldberg says. "We will not be distracted by headline-chasing extremists who attack our schools from within – rather, we will continue to urge our elected officials to focus on what matters: providing more resources for our students, recruiting and retaining quality educators and keeping our schools safe."
Chino Valley: Fighting back against hate in schools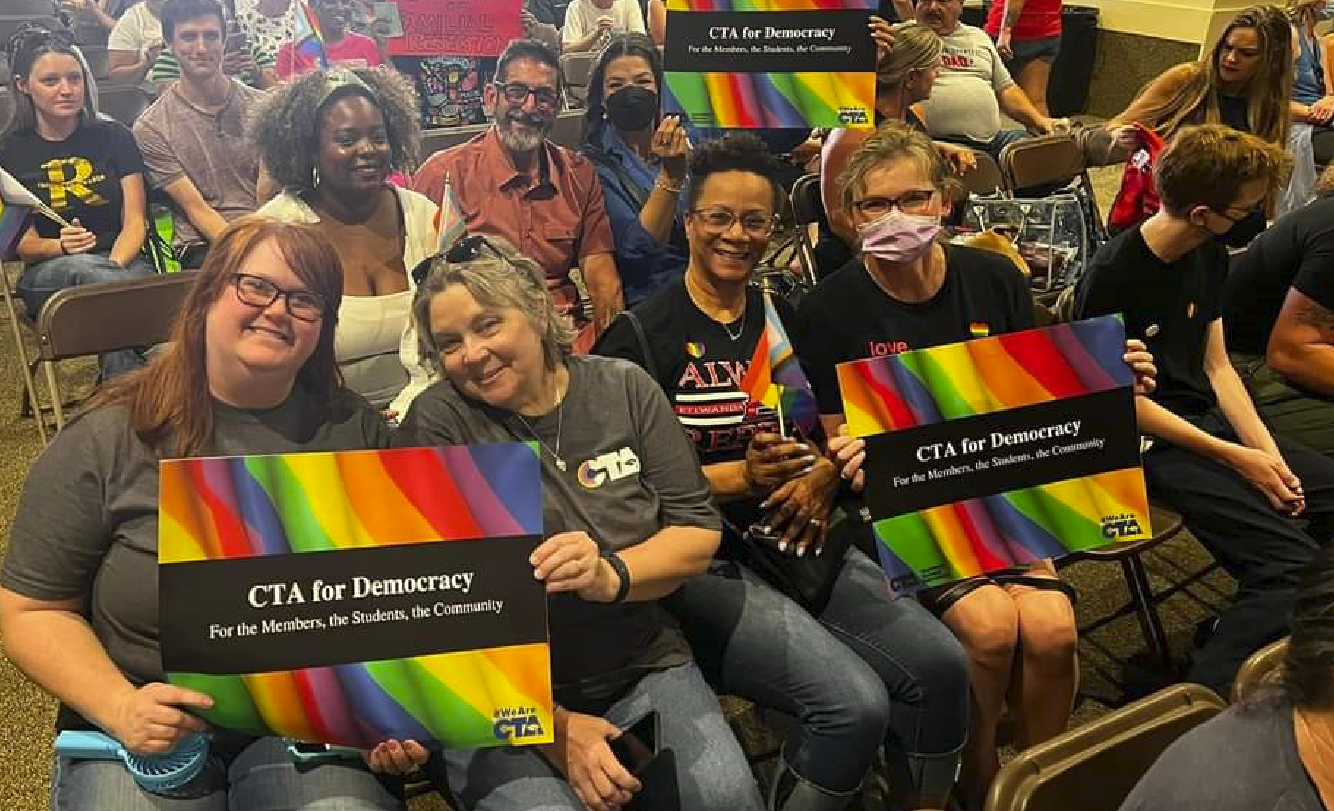 ACT members are fighting back against discriminatory, anti-LGBTQ+ policies recently adopted by the CVUSD Board of Education. These policies include a new regulation banning the Pride Flag (and other flags and emblems) from district properties and a policy requiring educators to "out" trans students to their parents in writing.
With the assistance of CTA attorneys, ACT sent a cease-and-desist notice to the district while it was considering the two new policies. After their adoption, the local filed an Unfair Practice Charge in August with the California Public Employment Relations Board, stating that the Pride/Flag policy could improperly restrict union speech and that CVUSD failed to collectively bargain with ACT before enacting these new policies.
The board policies targeting LGBTQ+ students and community come after changes on the board following the last election. Despite ACT members' efforts to elect more mainstream, pro-public-education candidates, those with more extreme views prevailed – including the current board president Sonja Shaw, who narrowly defeated ACT's endorsed candidate in an expensive race that saw at least one $50,000 donation to Shaw from a local contractor who does business with the school district. The new board has drawn national notoriety for the new policies, and community members have packed board meetings to share emotional voices from all sides.
President Goldberg, CTA Board members and presidents from other local associations attended a recent school board meeting to support ACT and oppose the outing policy. ACT President Brenda Walker has been leading efforts to have the policies rescinded.
"Unfortunately, our board is creating headlines by focusing on things that don't benefit students and only divide our community," Walker says. "They need to rescind these harmful and divisive policies and join us instead in focusing on things our union is fighting for, such as better support systems for special education students and recruiting and retaining quality educators for our community. Chino has already been struggling to attract teachers; the extreme views being imposed on the district and unfavorable publicity this board is garnering will only make it more difficult."
Walker continues to check in with her members and says a clear majority strongly oppose the new rules. She hopes one of the multiple avenues being used to get the policies reversed ends with them being rescinded permanently.
"Our members just want kids to be safe at school and to learn in supportive environments; they don't want to be forced to go against state laws and policies in order to further the divisive culture war priorities of a majority of the board," Walker says.
Attorney General Bonta said he is committed to challenging school policies that target and seek to discriminate.
"Students should never fear going to school for simply being who they are," said Bonta. "Chino Valley Unified's forced outing policy threatens the safety and well-being of LGBTQ+ students vulnerable to harassment and potential abuse from peers and family members unaccepting of their gender identity. California will not stand for violations of our students' civil rights."
Orange: School board embraces distraction over students
OUEA members are organizing and fighting back to defend Orange Unified School District from an extremist majority on its school board. Following a contentious election in November, a new school board majority took control on the back of a razor-thin 221-vote margin in the deciding race – and wasted no time cleaning house, firing the superintendent and assistant superintendent before taking aim at the district's sex education and gender identity curriculum.
The politics of the new board majority have created an environment where a single parent complaint about a misclassified book caused the district's digital library to be shut down for weeks, disrupting learning and instruction for thousands of students. Chaos like this has caused 30 percent of district leadership to either retire early or resign and change school districts.
Educators say there has always been a political movement in Orange to undermine public education, but never with the scorched earth mentality employed by the current extremists at the helm, which is a major distraction from the issues that matter for students and families.
"We had the opportunity to reimagine schools in Orange but we're fighting this," says OUEA Vice President Karin Barone, an educator at a gifted and talented magnet school. "I worry that there will be further strain."
OUEA President Goodlander says he's already seeing impacts in classrooms, where teachers are less willing to think outside the box or try new and innovative pedagogy due to fear of potential retribution from the extremist politicians.
"The association has always had a collaborative relationship with the district," he says. "This has put undue stress on our relationship."
The situation has created an environment where Orange educators are wary about what they say and teach in their classrooms, lest they end up on social media incurring outrage and phoned-in threats from extremists across the country. Goodlander said some educators who have left the district said they felt like they were being "hunted."
In response to the new, extreme direction of the school board, OUEA joined Orange families and community members in working to qualify a recall election for the four school board members currently in the majority. OUEA members including Barone and Chapman have been walking neighborhoods to gather signatures on recall petitions – the recall initiative needs to gather more than 13,000 signatures by November in order to qualify for an election next spring (visit ousdrecall.com for more information and to spread the word #ousdrecall).
"Most of our voters still don't know what's going on," says Chapman, OUEA political action committee chair. "When we're out there talking to people about the recall, we're getting a lot of 'ok, where do I sign?'"
Temecula: Educators file lawsuit to defend students and truth
After more than eight months of unrest and community division, students, parents, educators and TVEA filed a lawsuit against the TVUSD school board majority that brought culture wars and chaos to an award-winning school district.
With the representation of non-profit legal organization Public Counsel, TVEA filed suit in early August alleging the school board violated the law in adopting a resolution last December banning the teaching of ambiguously defined, race-related topics. Educators say the politicized action by TVUSD has impacted district safety.
"TVEA joined the lawsuit to guard against the negative impacts to Temecula students and educators in the classroom," says Edgar Díaz, TVEA president. "In the months following the resolution's implementation, we've seen its broad and vague language used as a weapon. Educators are identified and harassed on social media and classroom voicemails with horrible accusations that go against the nature of our service to the students of Temecula."
The lawsuit is a civil rights action challenging the imposition of curriculum censorship of what students can learn about American history, gender subject matters, and their racial and gender identities. During a press conference announcing the lawsuit, Temecula fourth grade teacher Amy Eytchison teared up while reading comments from a student about the impact the board's decisions have had and could continue to have on students and the community.
"Young adults became targets for social media harassment, not by children, but adults," Temecula student Mary M. wrote. "Although this resolution has impacted my personal life, the continuation of the board's ideological policies has the potential to harm the future of this district."
Diaz notes that TVUSD's current board majority has created a chilling atmosphere where teachers choosing the "wrong" book, topic or engaging in discussion results in the educator being removed from the classroom due to the vague nature of the resolution.
"Teachers have had their reputations irreparably harmed — one for incorporating a school library book in a project, others for serving as student advisors to clubs and guiding students to focus on school attendance while balancing students' First Amendment rights," he said. "The inability to facilitate academic discussions based on student ideas is causing educators to worry about discipline and their jobs."
Educator thoughts of reprisal are constant and palpable, according to Dawn Murray-Sibby, a high school teacher, TVEA member and one of the plaintiffs in the lawsuit.
"This ban has created a climate of fear in our classrooms, and it is preventing my students from learning about the history and diversity of our nation," she said. "I'm proud to be a plaintiff in this case to fight for my students, who deserve an education not censored by board members' ideological beliefs."
TVUSD's board garnered national headlines earlier this year when they refused to approve textbooks with sections on LGBTQ+ history including civil rights leader Harvey Milk. After the short standoff with Gov. Newsom, the school board quietly approved textbooks to comply with state law. The battle continues over the right to learn without censorship in Temecula.
"What the board is doing is not only morally wrong – it is illegal," Temecula student Susan C. said.
Extremists Rear Ugly Heads Throughout State
Other school districts where extremists have worked to undermine public education and sow division in communities:
Glendale: Since April, educators, parents and community members have dealt with anti-LGBTQ+ attacks at school board meetings and on social media, culminating in violence at a June board meeting. The attacks have inspired counter-organizing from educators and the community – especially around this year's school board elections. Previously, a Glendale teacher was publicly harassed and threatened for providing administration-endorsed Pride curriculum to students. The local chapter and CTA helped the member respond to the harassment and fight the district's inappropriate attempts to discipline her.
Hayward: Educators, students and community showed up at a June meeting to support the LGBTQ+ community after a Hayward Unified board member made outrageous and misleading homophobic comments about the school district's curriculum and support for inclusive policies. On a 4-1 vote, the board adopted a resolution declaring support for LGBTQIA+ youth, staff and families.
Murrieta: In August, Murrieta Unified's school board approved a "parental notification" policy similar to Clovis' and Chino Valley's, citing CVUSD's policy as a model in their meeting agenda.
What to do when hate comes to your school district
Orange Unified Education Association leaders Greg Goodlander, Karin Barone and Dr. Heather Chapman shared some learned best practices on fighting extremism in your school district.
Start the work now. Get engaged in your community before extremists go public, so your local is seen as a community partner. Getting active in your local elections is key.
Strength in numbers. Ask members from neighboring CTA locals to support by attending your school board meetings. Be in close contact with CTA leaders and staff, who can provide important assistance.
Safety above all. Have a conversation in your local about how to ensure safety for members and students at school board meetings and other events.
Tell your story. Establish a presence on social media to share your story as educators in your community.
Take care of you. Self-care is especially critical in these highly charged environments.
It's a marathon. Prepare and pace yourself for a lengthy fight that can be very draining, even in the best of conditions.